Were you one of the unlucky souls who missed Philip Glass at the Library's benefit at the Warfield in June?  Or, worse yet, missed him at the Library last summer?
Fear not!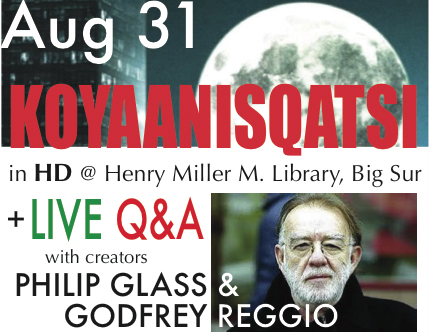 Friday, August 31st, 7:30 pm at the Henry Miller Library: A screening of Koyaanisqatsi, the 1982 film directed by Godfrey Reggio with music composed by Philip Glass. 
Better yet: before the screening, director Reggio and composer Glass will host a Q&A with the audience. Don't miss this, it will be a rare opportunity to discuss the film with both creators!
Tickets on sale at Noon on Friday, July 27th here: http://koyaanisqatsi.eventbrite.com/
Meanwhile, here's a bit more about the film:
The film consists primarily of slow motion and time-lapse footage of cities and many natural landscapes across the United States. The visual tone poem contains neither dialogue nor a vocalized narration: its tone is set by the juxtaposition of images and music. Reggio explains the lack of dialogue by stating "it's not for lack of love of the language that these films have no words. It's because, from my point of view, our language is in a state of vast humiliation. It no longer describes the world in which we live.